Hey there! Recently, I was lucky enough to be paired with
Erin Sample of Sample's Superstars
for a product swap. For this swap, Erin was given a copy of my product,
Digraphs and Blends Literacy Center Bundle Pack
(To celebrate this fun swap, it's on sale through Sunday night for an additional 20% off). Click the picture below to check out her blog and her review of my product. Be sure to become a follower of her blog while you're there. Since I've become one of her followers, I've even been lucky enough to win one of her giveaways!!!!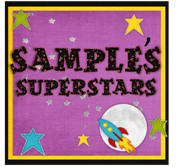 As a swap, I was fortunate enough to receive Erin's fabulous resource, "
Over 30 Writing Mini Lessons and Bulletin Set-Common Core
." Wow! I am so impressed by this packet and by Erin as a teacher/blogger/TPT creator. I had so much fun exploring this A*W*E*S*O*M*E packet!!!
I chose this packet because vocabulary is a huge focus in my LFS district. I'm always looking for new ways to introduce vocabulary in my classroom. My students certainly lack a variety of vocabulary in their writing and this is the time of year that I really increase my focus on this skill while we're doing kid writing.
I happily downloaded and printed this 124 page packet. As I printed, I noticed that much of this packet focuses on encouraging students to use *sparkle* words. Well you know me, once I saw the word *sparkle*, I was hooked! After printed, I laminated the pages that I just knew would get used many times over by myself and my students.
Here's a brief overview of Erin's packet, directly from her product description:
In this bulletin board set, there are over 30 mini-lesson ideas to use with your students to give them meaningful experiences with vocabulary in order to apply their new learning into writing. The mini lessons use arts integration,literature, writing and even science connections to build vocabulary.
There are also many other options if you choose not to make the bulletin board set. You could put the pages into page protectors and make a portable word wall in a binder. You could also put the words and labels on rings. Just make sure the words are accessible to students and they are encouraged to use them.
Erin gives a few ideas for how best to utilize and display these materials. Ultimately, I wish I could display them on a large bulletin board and keep them up all year, but I am limited on classroom wall space, so I decided to three-hole punch all resources and put them in a binder in the order they were in the packet. This orders the resources with the bulletin board materials first, followed by lesson plans and ideas. However, I really like Erin's idea of making a portable word wall in a binder for students and as I teach these words to my students, I will add them to a second binder to create a portable word wall to be kept at my writing center.
Erin has organized this packet by the type of words you will focus on teaching your students. These are all called *sparkle* words. Her 15 sub-headings for her sparkle words are color, size, shape, emotion, taste, sound, better than "said,: better than "cool" or "awesome," smell, touch/texture, made of, pattern, position, time, and action verbs. Because of the wide variety of vocabulary she introduces, this resource is perfect for differentiating for high and low students alike. Students in all primary grades would benefit from this vocabulary instruction. I can think of many of my high-flyers who need to increase the variety of adjectives and verbs they use and at the same time, I need my lower students to simply start adding adjectives to their writing. This packet will help me meet all of their needs. Check out a picture of some of the color and pattern words below. Love these!!!
Not only are the materials to make a bulletin board full of these words included in this pack, but there are mini-lessons for each type of word!!!! I love how Erin included suggestions for authentic children's literature throughout the mini-lessons. It helped me to quickly see how I could easily tie it into my existing curriculum. She often refers to the way she uses this in her classroom, which makes this pack sooooo user-friendly. The colorful graphics will please the eyes of students and teachers alike. I adore the clip art she chose for the borders and backgrounds. Many of the lessons also include reproducible worksheets and activities for students. Check out some of my faves:
Once I took a chance to really look at this program I realized what a comprehensive unit it is!
A-MAZE-ING! I CANNOT wait to start using this program in my classroom. I will use it year after year as I encourage my littles to expand their writing and speaking vocabulary. I feel that it will really improve my students' writing and speaking vocabularies. I am so glad I had the opportunity to review this product for Erin. I LOVE her products and will be a loyal blog and TpT follower (and customer)!